"Donald Trump, is that YOU…or your cat?" We all know that many cat lovers make their cats wear the weirdest things like hats and tights. How weirder can it get, right? Well, it just got weirder indeed, with cats ala Donald Trump!
In case you haven't seen one yet, Donald Trump cats are the latest Internet cat sensation. With just some improvised faux hair + your cat's natural poker face and a little bit of imagination, you've got yourself a Trump cat. And an instant hit on Facebook and Instagram.
Tada! This is how it's done.
Without further ado, here are the wackiest Donald Trump cats to ever grace the Internet.
The resemblance is uncanny, don't you think? Right down to the scowl.
This Trump cat got the attitude to a tee.
The collar and red tie + "windblown" hair just made this legit Trump cat!
And here we have what's called a "resting Trump (cat) face".
Apparently, there's plenty of resting Trump cat face to go around…
This orange tabby looks like it naturally grew Trump hair. Bizarre.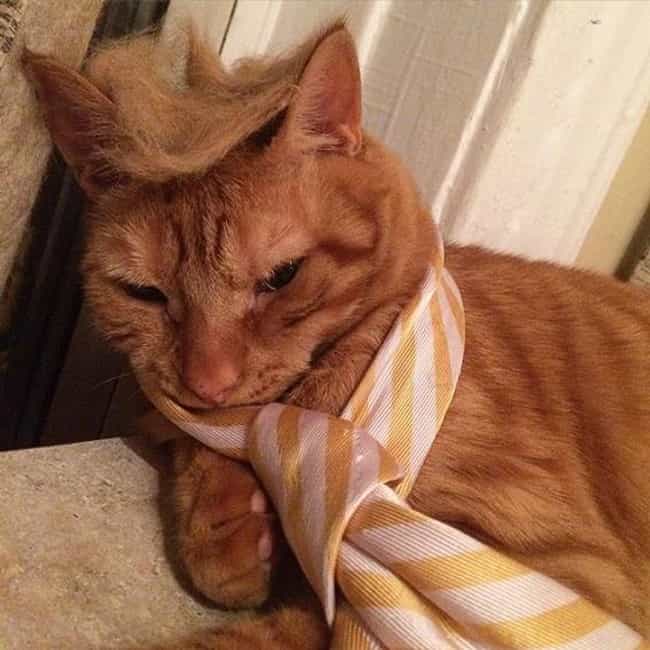 And this might just be a glimpse into what a wasted Trump would look like after the historic summit with North Korea.
Grey sure looks good on this Trump cat.
Somebody's not happy to be a Trump cat. Maybe it's the hair. It's not so popular with the ladies…
But then again you have these felines rocking the Trump look. So not fair.
And there are the ones that look downright…confused? weird? icky? Take your pick.
But hey, Trump cat or not, here's what this feline really thinks overall: