Japan—the land of kawaii, anime, sushi, Lolita fashion, and crazy inventions is also home to some of the cutest animals that don't exist anywhere else in the world. These animals may be the reason for you to book that trip to the land of the rising sun soon.
Ezo Fukuro
This cute critter looks like it came from the wizarding world of Harry Potter. If that's the case, we'd love to have one! Ezo Fukuro are a subspecies of the Ural owl, and a native of Hokkaido. They live in trees where they blend in so effortlessly, it's like they become one with the tree. They're fluffy, adorable, and love to cuddle. But don't be fooled by the cuteness because they're still predators, and may eat some of the smaller animals in this list.
Ezo Momonga
Ezo Momonga is a flying squirrel endemic to the island of Hokkaido. It's small enough to fit into the palm of your hand, and has the cutest enormous eyes and button nose. These squirrels live on the treetops in the evergreen forests of Honshu and Kyushu islands. They usually hide out during the day, and emerge at night to feed on fruits, seeds, leaves, buds, and barks. And did we mention that they can fly? Yup, the cuteness level just went off the charts.
Ezo Naki Usagi
This little furball might already be familiar to you—just imagine it in bright yellow with pointy, black-tipped ears, a spiky tail, and you've got yourself a Pikachu. In fact, this creature is the inspiration for Pikachu. Its Japanese name means "crying rabbit" because it looks like a rabbit but with a shrill-sounding cry. They can be found in Hokkaido. They're usually busy gathering and storing food during the warmer months so that during the winter they can just burrow underground and feast on their munchies. And that's probably why they're going to survive the post-apocalyptic world.
Ezo Risu
Ezo Risu is also known as the Japanese Red Squirrel, belonging to the family of Eurasian red squirrels. They can be found in Hokkaido. Like their other squirrel counterparts, they spend most of their time foraging for berries and nuts in the forest. In early spring, they're busy gathering nesting materials to line their breeding dens because in a few weeks, the females will deliver new litters. That's also the reason they rarely make appearances in photographs. They elude even the wilderness paparazzi.
Ezo Yachi Nezumi
This reddish critter is known as the Hokkaido red-backed vole, and is related to another Hokkaido resident, the pika. It lives in forests and is strictly vegetarian—feeding mostly on grass, herbs, leaves, shoots, and berries.
Hokkaido Red Fox
The Hokkaido red fox is a sub-species of the common red fox. For hundreds of years, it has been a recurring character in many Japanese myths and folklore, where they're notorious as shape-shifters, enchanters, tricksters, and messengers of the gods. They're also often described as wild, sly, and clever creatures. Not so much different from foxes in Western fables, fairy tales, and folk tales. But these Hokkaido natives aren't particularly shy around people. In fact, they're so lively and curious, they can approach anyone or anything new and interesting in their surroundings just to examine them up close.
Tsukinowaguma
Tsukinowaguma is also known as the Japanese black bear, or moon circle bear. They can be found in Eastern Honshu. They look like the average Asiatic black bear, only smaller. What makes these black bears different from the rest of the black bears in the world is the yellow crescent-shaped marking on their chest. They're mostly nocturnal, avoid humans whenever they can, and feed mainly on plants, nuts, and berries all year round.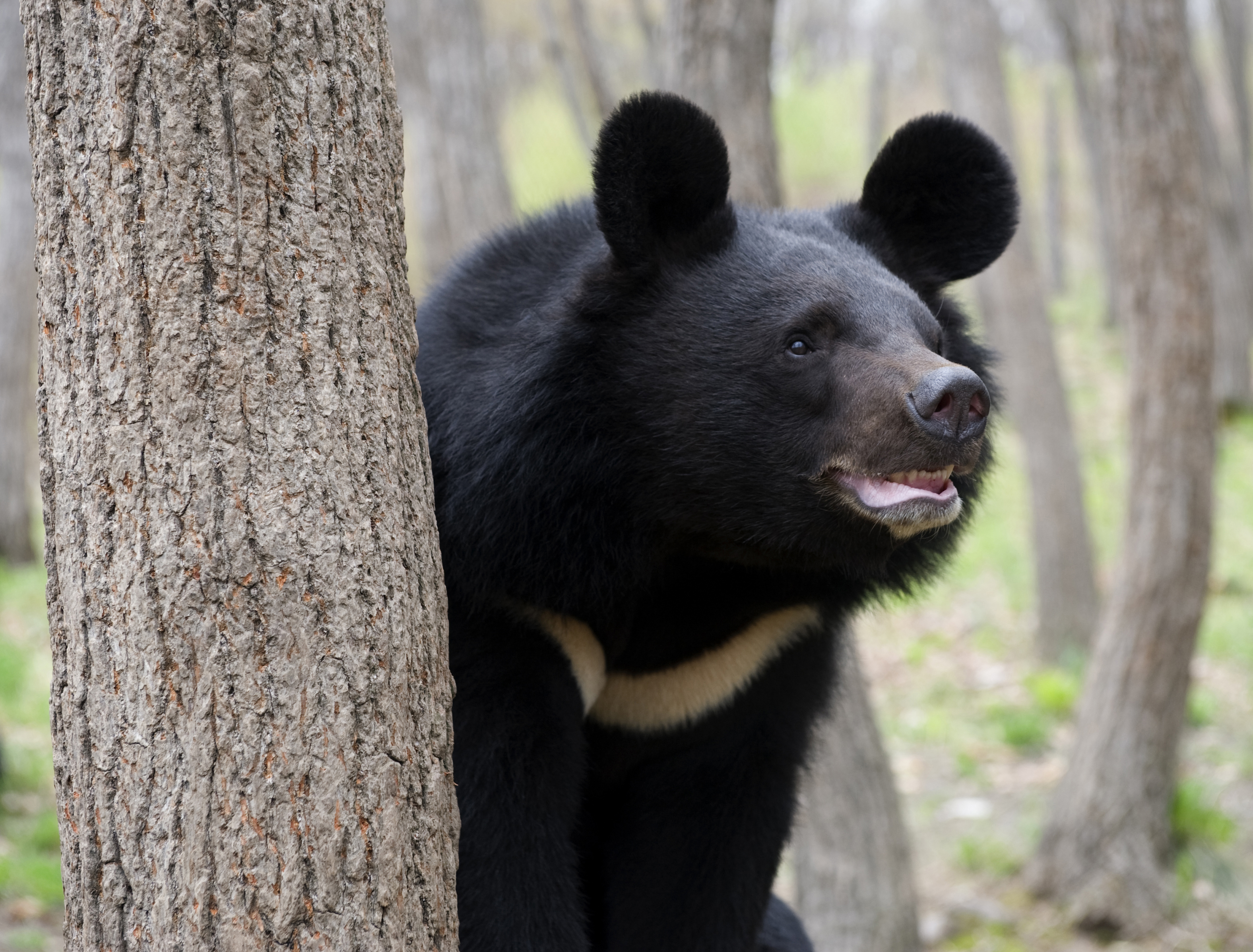 Japanese Macaque
The Japanese macaque is also known as the snow monkey, the only primates who live in snow. They have brown-grey fur, red faces, and short tails. They spend most of their time chilling out in hot springs in the mountains of Nagano, and hey, we can't blame them because we'd be doing the same thing if we were up there. Other favorite pastimes include communal grooming and playing with each other. Macaques typically live in matrilineal groups, where the females stay within their family group for life, while the males move out before they mature.
Tanuki
Tanuki are Japanese racoon dogs, but they're not really related to racoons. They may resemble the masked face of racoons, but they're more closely related to foxes and wolves. They have soft, bushy fur, soft eyes, and a gentle disposition. Tanuki are sociable creatures and live in close-knit groups or monogamous pairs. Like the Hokkaido red fox, they are considered shape-shifters and mystical creatures in Japanese folklore. But we have no idea why because…just look at that cute face!
Lizuna
The lizuna is a subspecies of weasel. They prefer the colder climates of Hokkaido and can also be seen in Siberia and northern Scandinavia. In winter, their coat naturally turns into immaculate white to camouflage them in the snow. They're skittish and move so quickly in the snow, you might think you're just imagining them. Like the Hokkaido red fox, lizunas have also been featured in Japanese folklore as shape shifting, supernatural creatures. Can you believe this little guy is supernatural? Maybe more like kawaii natural.
Shima-Enaga
Shima-Enaga is a long-tailed small bird which is a type of chickadee or tit. It is endemic to Hokkaido. Unlike its counterpart in northern Japan, its face is entirely white, looks like a sweet baby seal, and it doesn't have brown eyebrows. These birds live in forests both in the lowlands and the mountains. Despite its cuteness, it suspiciously looks like it knows how to mess with you if you provoke it.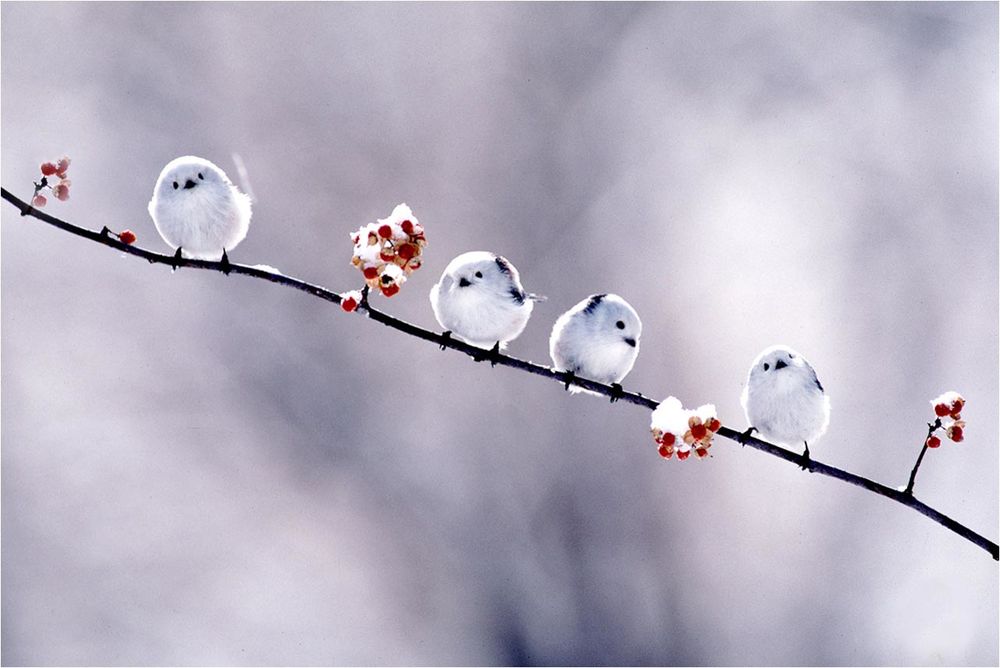 Kamoshika
We have to admit, the kamoshika, or the Japanese serow, which is a goat-antelope mix, looks more funny than it is cute. They have short, black horns that curve backwards, bushy grey fur, and bushy tail. They're found in dense mountain woodland in Japan, where they feed on lots of leaves, shoots, and acorns. During the mid 1900s, they were almost hunted to near-extinction, but conservation efforts have protected the remaining population and allowed them to grow into greater numbers again. The kamoshika is considered as a national symbol of Japan.